SD2Vita lets you use a micro SD card instead of the PS Vita memory card. You'll have to buy a SD2Vita adapter and insert it into the game slot. Therefore, you can't play physical games and use a micro Sd card at the same time. This guide will allow you to use your old PS Vita memory card to store and load roms for Adrenaline (a PSP emulator), while using the micro SD card for everything else.
You will need the following items:
SD2Vita Adapter V5.0 or V6.0
This tutorial will be using the SD2Vita Adapter 5.0 but as of 2021 the newest version is 6.0. Both adapters will work for this guide. I got my SD2Vita adapter here.
Micro SD Card
Get a legitimate micro SD card. If the price seems too good to be true then it is probably fake; buy from reputable sellers like the one I got here.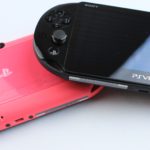 Looking for an Unique Vita?
If you are interested in a different color vita (like my pink one), I got mine online from an eBay seller in Japan at https://ebay.us/LETrZt
Step A: Move Tai Folder (Optional)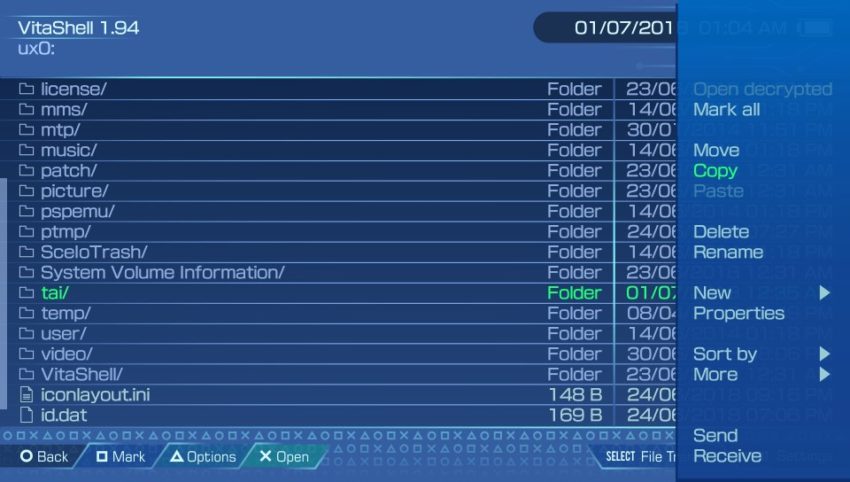 It is highly recommended to have the tai folder in ur0 instead of ux0, the steps below will show how to do that.
Launch Vitashell and go to ux0.
Scroll down to Tai Folder and press Triangle to bring up the menu and select "Copy".
Press O to back out until you see ur0: and press X on ur0.
Select the ".." and press triangle to paste.
Note: If you installed other plugins, you have to edit the config.txt inside the tai folder and change the ux0 to ur0.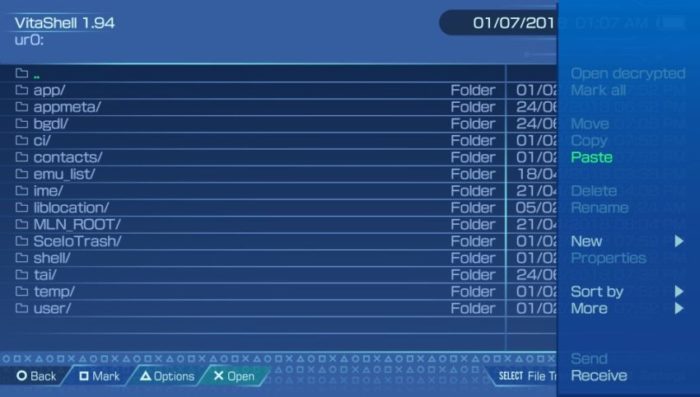 Step B: Delete the Tai Folder in ux0: (Optional)

Press O until you see ux0: and press X on it.
Select the tai folder and press Triangle to bring up the menu and select Delete.
Step 1: Back up all the contents on your Sony memory card through VitaShell.

Launch Vitashell and press start to bring up main settings
Change "SELECT button" to USB.
Press Select to connect to your PC through USB.
Wait for a screen to pop on your PC containing all the files on your memory card.
Step 2: Enable Hidden Folders.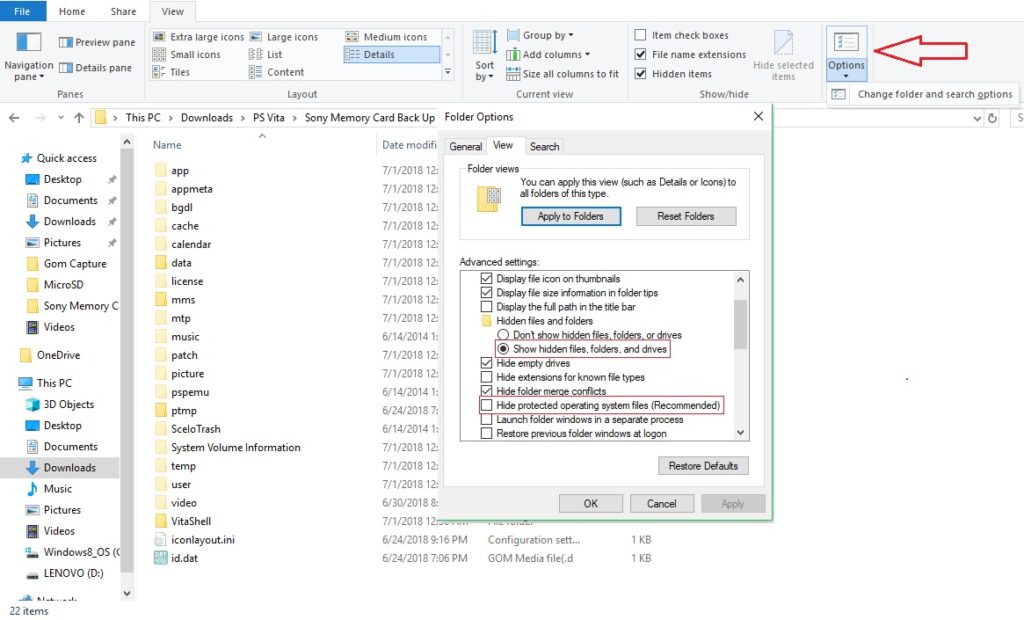 You need to enable View Hidden folders to see everything on your memory card.
Go to View / Options / Change folder and search options / View /
Select "Show hidden files, folders, and drives"
Make sure to uncheck "Hide protected operating system files (Recommended)."
Click Ok.
For Mac Users, you can use CMD + SHIFT + . to enable hidden folders and again to turn off the view.
Step 3: Copy all Contents in your Memory Card to a Backup Folder.

The folder that just popped up when you connect through USB contains everything in your Sony Memory Card.
Once hidden folders are enabled, copy everything in that folder to your back up folder.
Step 4: Download and Install Autoplugin.vpk

Locate the Tai folder in your memory card folder.
Download the autoplugin.vpk plugin from Github and put it any folder. (I created a folder called VPK.)
Press O to cancel the USB connection.
In VitaShell, scroll down to ux0: and press X.
Go inside the folder you put autoplugin in and press X on Autoplugin.vpk to install it.
Step 5: Use Win32DiskImager and ZZBLANK.img file on MicroSD Card.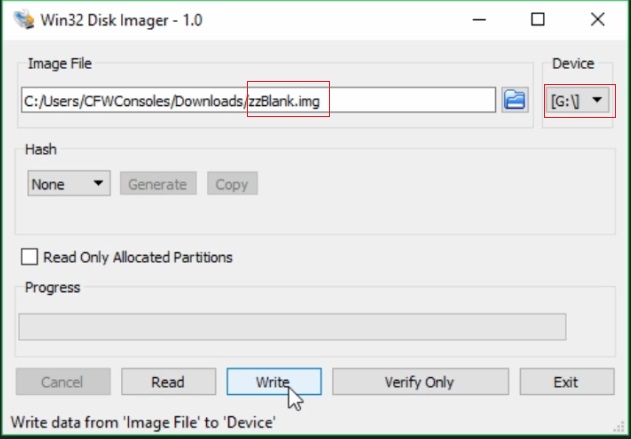 Plug your MicroSD card into your PC, and take note of the letter your PC assigns to the card.
Install and open Win32DiskImager.
While in Win32DiskImager, click on the blue folder icon and select the zzBlank.img file.
The location of the zzBlank.img file will now appear under Image File.
Make sure your microSD card is under Device and then click Write.
Step 6: Eject MicroSD Card and Format it.

Safety eject your MicroSD card and plug it right back into PC.
You will get a prompt that says the MicroSD will need to be formatted.
Click on Format disk.
Step 7: Format MicroSD Card.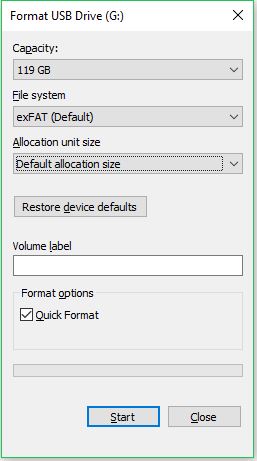 Change the "Allocation unit size" to "Default Allocation size."

If you have a 128 GB or bigger micro SD card, set the Allocation unit size to 64k cluster size.

Make sure the "File system" is "exFAT (Default)."
Click on Start.
Step 8: Copy Backed up Contents into MicroSD Card.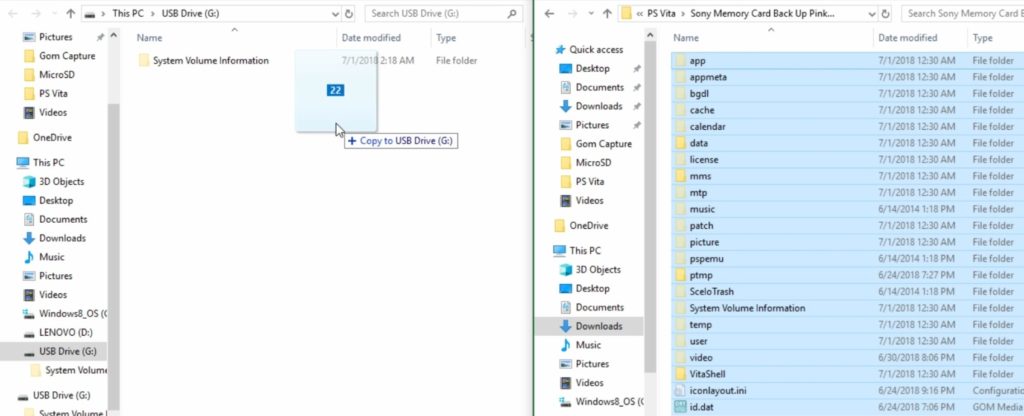 Open the folder you backed up in Step 1 and copy it all to your MicroSD card.
Eject your card from the PC once done.
Step 9: Insert MicroSD Card and launch Autoplugin.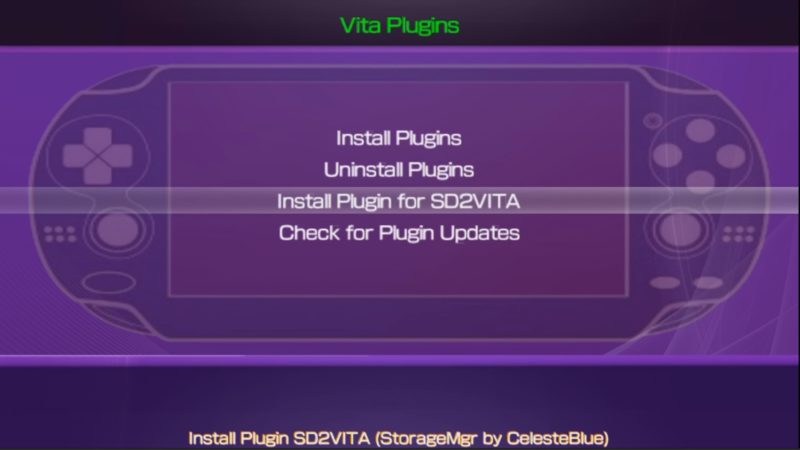 Now you can put your MicroSD card into the SD2Vita adapter.
Insert adapter into your Vita (insert it at the top of the Vita where you'd insert your physical game).
Launch Autoplugin.
Click on "Install Plugin for SD2Vita."
Press X "To proceed with the installation."
Step 10: Configure Storage Manager plugin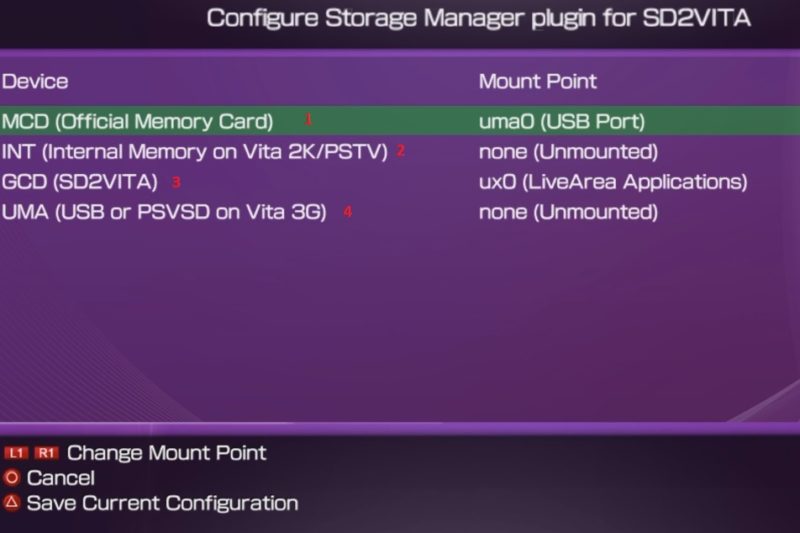 These are the default settings, you can change where each memory card will be mounted by pressing L1 or R1.
MCD - The official PS Vita memory card.
INT - Internal memory (Slim models only, mine is the original so none is being displayed).
GCD - MicroSD Card.
UMA - PSVSD (an adapter for microSD card that replaces the sim card slot on the original vita, have to buy and install this separately).
Press Triangle to "Save Current Configuration"
You will get a system message saying "Your PSVita will restart"
Step 11: Confirm in VitaShell.

Launch VitaShell and press O until you can't go back out anymore.
Vitashell should look like the configuration you made in the previous step.
Note: If you do not have ENSO installed, your MicroSD card will not load if you shut your Vita down. You will need to start h-encore to load your Microsd card whenever you boot up. So if h- encore is on your Sony memory card, you must keep that memory card in your Vita.  
Bonus: Set up Adrenaline to Read Roms from the Sony Memory Card.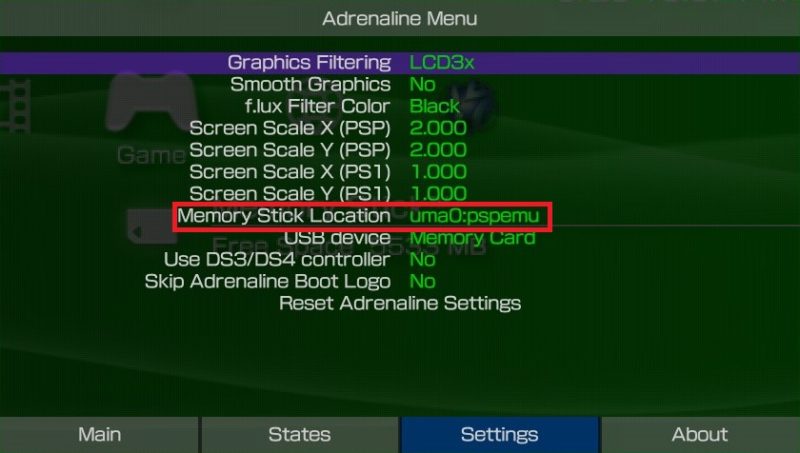 You can still use the Sony Memory Card to store roms for Adrenaline.
You must have Adrenaline installed: Guide here.
Launch Adrenaline and hold the PS Button to bring up the Settings Menu.
Select Settings at the top right.
Press R twice to go to the Settings.
Highlight Memory Stick Location and change it to uma0:pspemu