SD2Vita will allow you to use a micro SD card as the PS Vita memory card. You will need to purchase an adapter and it goes into the game slot. Therefore, you won't be able to play physical games and use the micro SD card at the same time.
You will need the following items: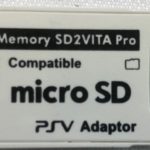 SD2Vita Adapter V5.0
This tutorial will be using the SD2Vita Adapter 5.0. It is the newest one as of 2018 and will fit into the PS Vita slim without any modifications. I got mine here.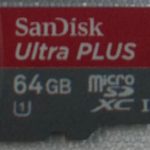 Micro SD Card
Get a legitimate micro SD card. If the price seems too good to be true then it is probably fake; buy from reputable sellers. I got mine here.
Step 1: Back up all the contents on your Sony memory card through VitaShell.

Launch Vitashell and press start to bring up main settings and change "SELECT button" to USB. Press Select to connect to your PC through USB. Wait for a screen to pop on your PC containing all the files on your memory card.
Step 1B: Enable Hidden Folders.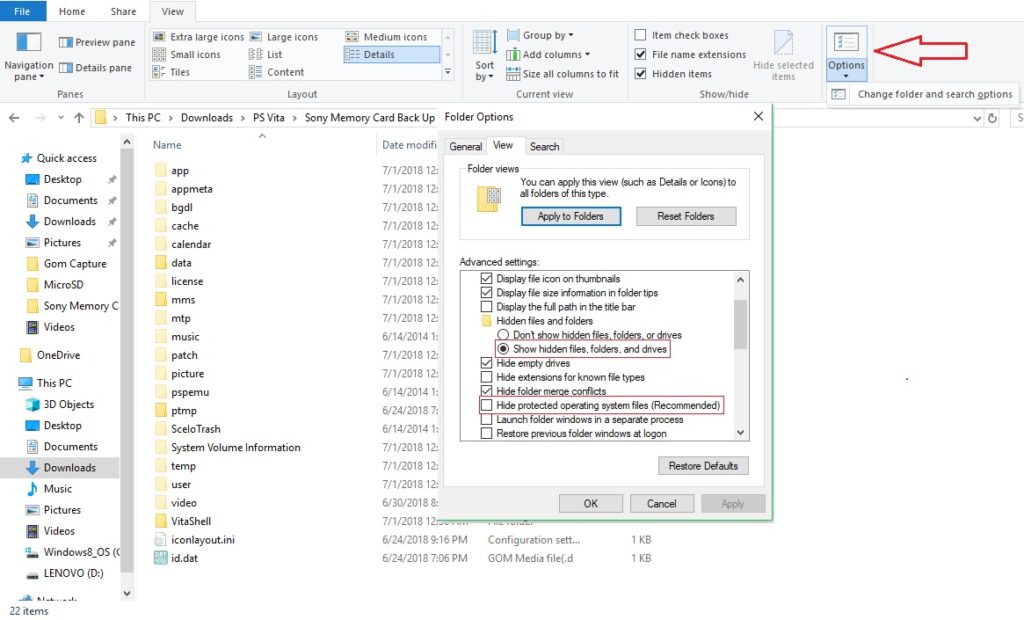 You need to enable View Hidden folders to see everything in your memory card. Go to View / Options / Change folder and search options / View / and select "Show hidden files, folders, and drives", and make sure to uncheck "Hide protected operating system files (Recommended)."  Click Ok.
For Mac Users, you can use CMD + SHIFT + . to enable hidden folders and again to turn off the view.
Step 1C: Copy all Contents in your Memory Card to a Backup Folder.

The folder that just popped up when you connect through USB contains everything in your Sony Memory Card. Once hidden folders are enabled, copy everything in that folder to your back up folder.
Step 2: Download gamesd.skprx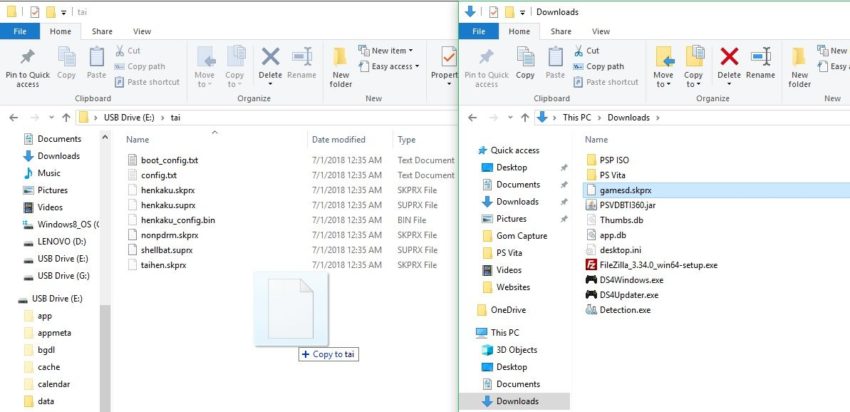 Locate the Tai folder in your memory card folder. Download the gamesd.skprx plugin from Github and put it in the Tai folder.
Note: I have extra files in my Tai folder because I installed other hacks.
Step 3: Move Tai Folder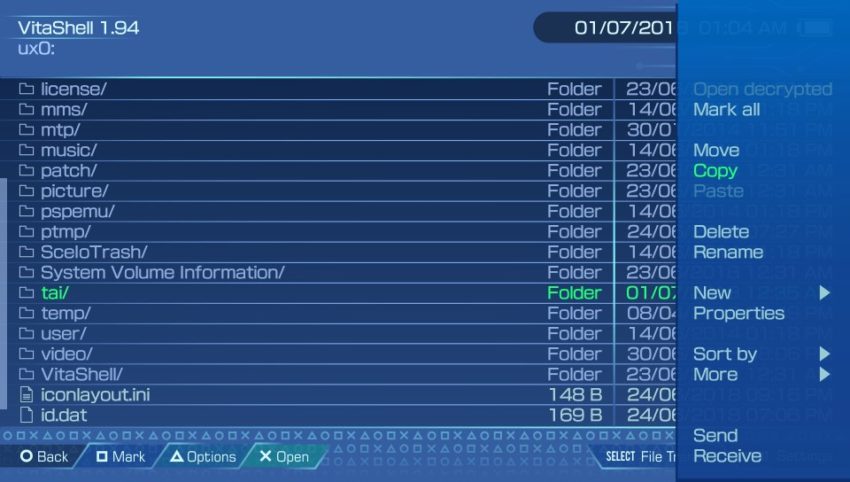 Press O to cancel the USB connection. In VitaShell, scroll down to ux0: and press X, scroll down to Tai Folder and press Triangle to bring up the menu and select "Copy". Press O to back out until you see ur0: and press X on ur0. Select the ".." and press triangle to paste.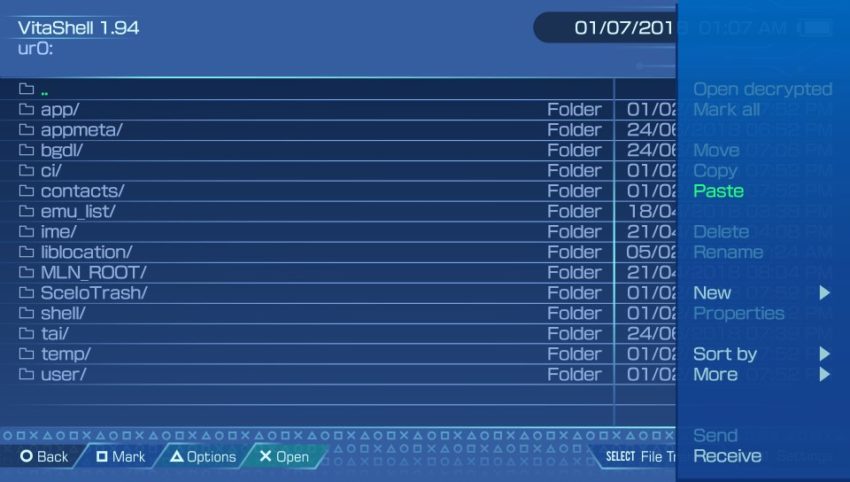 Step 4: Edit the Config.txt file in ur0: FOLDER.

Go into the new tai folder you just pasted and press X on the config.txt file. Scroll down to *Kernal and press Triangle to bring up a menu. Press "Insert empty line" and type in "ur0:tai/gamesd.skprx". Press O to go back out to your config file and then O again to exit. Press X to save your modifications.
Note: Other hacks will require you to type in other plugins under the *KERNEL, but these should go under ur0:tai/gamesd.skprx instead of *KERNEL. ur0:tai/gamesd.skprx should always be under *KERNEL.
Step 5: Delete the Tai Folder in ux0:

Press O until you see ux0: and press X on it. Select the tai folder and press Triangle to bring up the menu and select Delete. Press X to confirm the deletion and press START to pull up the main settings. Scroll down to "Reboot" to restart the Vita. You always need to reboot the Vita whenever you make changes in the config.txt file.
Note: The uxo: directory is for removable storage (where your Sony memory card was). The deletion of the tai folder in ux0: is important because without it your Vita won't load your Sony memory card. The vita will instead load from the tai folder on ur0: which we edited to load your microSD card. 
Step 6: Use Win32DiskImager and ZZBLANK.img file on MicroSD Card.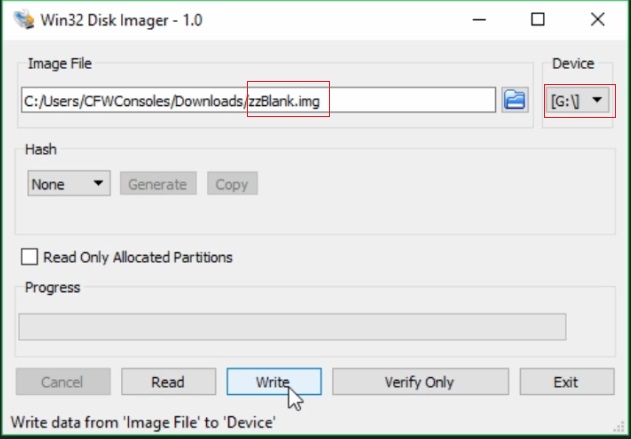 Plug your MicroSD card into your PC, and take note of the letter your PC assigns to the card. Install and open Win32DiskImager. While in Win32DiskImager, click on the blue folder icon and select the zzBlank.img file. The location of the zzBlank.img file will now appear under Image File. Make sure your microSD card is under Device and then click Write.
Step 7: Eject MicroSD Card and Format it.

Safety eject your MicroSD card and plug it right back into PC. You will get a prompt that says the MicroSD will need to be formatted. Click on Format disk.
Step 8: Format MicroSD Card.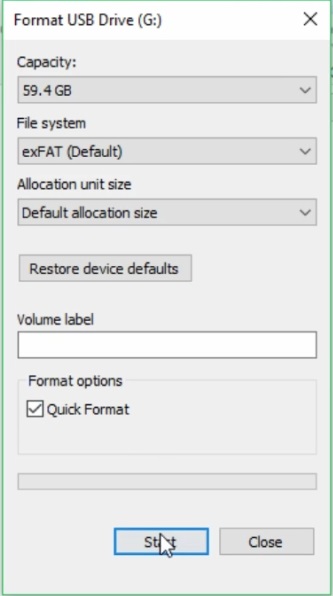 Change the "Allocation unit size" to "Default Allocation size" and make sure the "File system" is "exFAT (Default)". Click on Start.
Step 9: Copy Backed up Contents into MicroSD Card.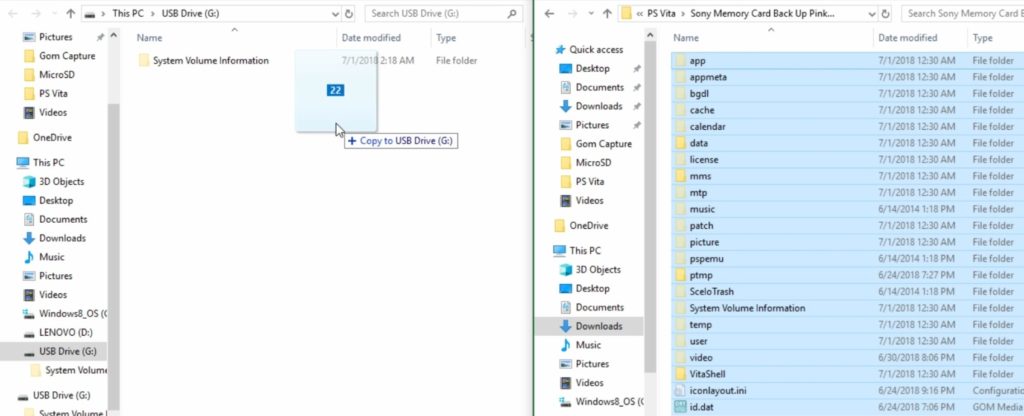 Open the folder that you backed up in Step 1 and copy everything into your MicroSD card. Once done, eject your card from the PC.
Step 10: Put MicroSD Card into the SD2Vita Adapter V5.0.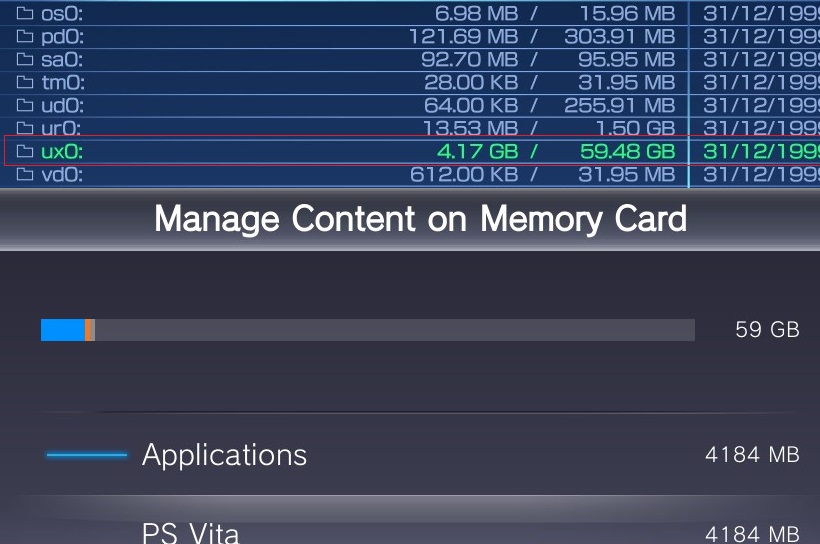 Now you can put your MicroSD card into the SD2Vita Adapter V5.0 and put that into your Vita (insert it on the top of the vita where you would insert your physical game). Power on the Vita and check your memory card capacity either through VitaShell or Content Manager.
Note: If you are on 3.67 or 3.68, your microSD card won't load up if you shut down your Vita. You need to launch H-Encore in order for your microSD card to load whenever you boot up. Therefore if H-Encore is on your Sony memory card then you need to keep that memory card in your Vita. However, you can't use both memory cards at the same time.