You will need the items below to install Trinity. Your PS Vita must be on firmware 3.70 and logged into your PSN account. Create a PSN account if you are paranoid about bans, but the only bans I heard of are those who used trophy cheats. After installing Trinity, you must downgrade using Modoru here!
Huge thanks to TheFlow, the creator of Trinity, this guide is following his own readme. If you want to contribute to him, do so on his GitHub.
Step 1: Log into PSN and Download a PSP Game.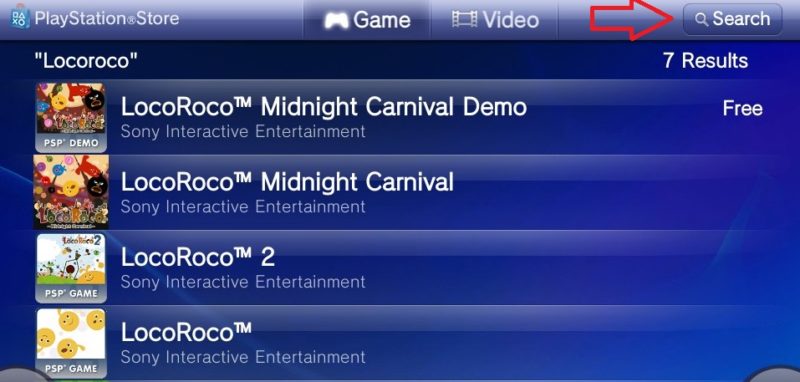 Log into your PSN.
Go to the Search bar at the top right and type in the PSP according to your region.
Any PSP game will work but the following Demos are FREE options:

Ape Quest for those in the EU/UK
LocoRoco Midnight Carnival for those in North America
YS Seven for those in Japan

To check if you have an official PSP game, launch the game, and hold the PS button.
If a settings menu pop up, you got the right type of game.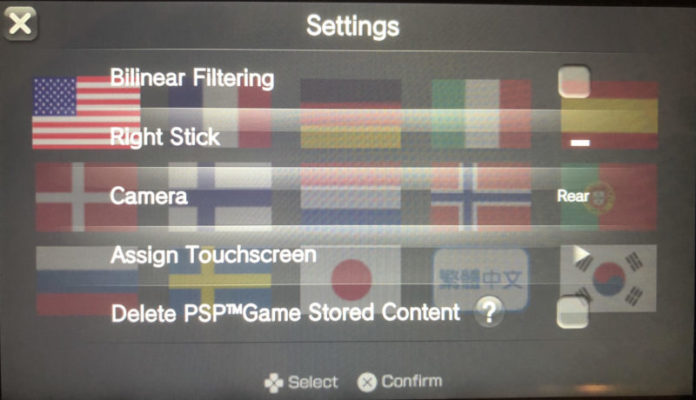 Step 2: Download and Install all Files.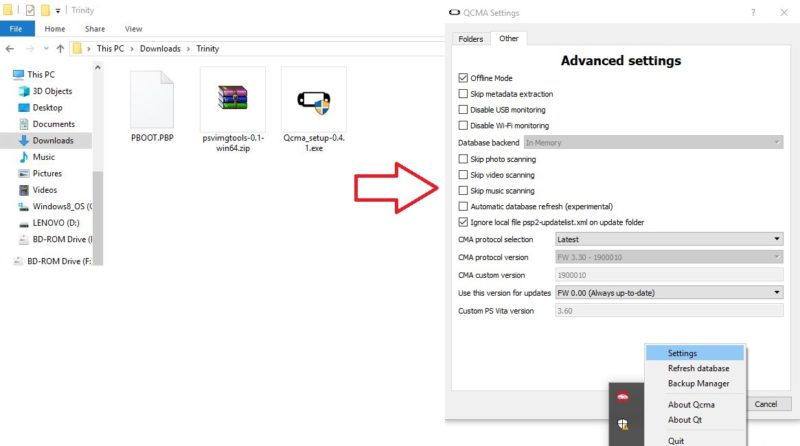 Download all 3 files, leave psvingtools unzipped for now.
Run and install Qcma.
Qcma appear in the system tray on the bottom right corner.
Right click on the Qcma icon and go to settings.
Click on Other and set the "Use this verison for updates" to FW 0.00 (Always up-to-date).
Step 3: Connect Vita to PC and Launch Content Manager

Plug your Vita into the PC through USB.
Launch Content Manager and go to Copy Content.
Select PS Vita System to PC and then PSP/Other.
Select the PSP game and then select COPY.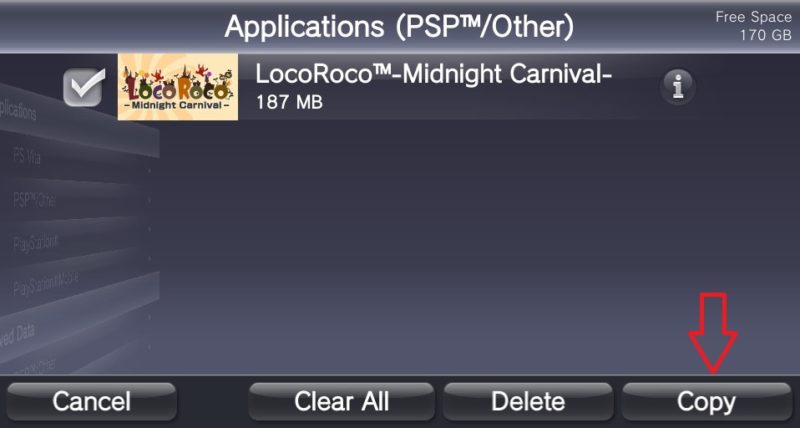 Step 4: Transfer PSP Game.

Once the PSP game finished transferring, go to Documents/PS Vita/PGAME.
Inside the PSP game there should be three folders: game, license, and sce_sys.
Make a copy of the folder highlighted red, and store it somewhere.

This is a backup of the unmodified PSP game tied to your account.

Unzip everything inside the PSVIMGTOOLS folder into the PSP game folder (Highlighted in Red).
Copy the number in the folder highlighted green (this is your Account ID).
Go to http://cma.henkaku.xyz/.

Step 5: Use Notepad to Prepare Commands

Paste your Account ID and click submit.
It will generate a 64 digit number, copy the number.
Open up NotePad and paste the two commands below.
Use Find and Replace (CTL H). For Find what, type in YOUR_KEY and make sure there are no spaces.
For Replace with, paste in your 64 digit key and once again make sure there are no spaces.
Click Replace All, which should replace all YOUR_KEY text with your 64 digit number without adding or removing any spaces.
Copy the entire first command (psvimg-extract -K YOUR_KEY game/game.psvimg game_dec, remember YOUR_KEY is now replaced with the 64 digit key).
psvimg-extract -K YOUR_KEY game/game.psvimg game_dec
psvimg-create -n game -K YOUR_KEY game_dec game
Step 6: Use Command Prompt to Decrypt Game.

Open up CMD by hitting the windows button and typing in CMD.
In the CMD, type CD.
Drag the PSP game folder into CMD, this will change the working directory to your PSP game file location.

Press Enter to confirm.
Right click to paste the command you copied at the end of Step 5 and press Enter.
Wait for the command to finish, you will see "all done." in the CMD if it worked correctly.
Step 7: Move Trinity into the PSP Game Folder.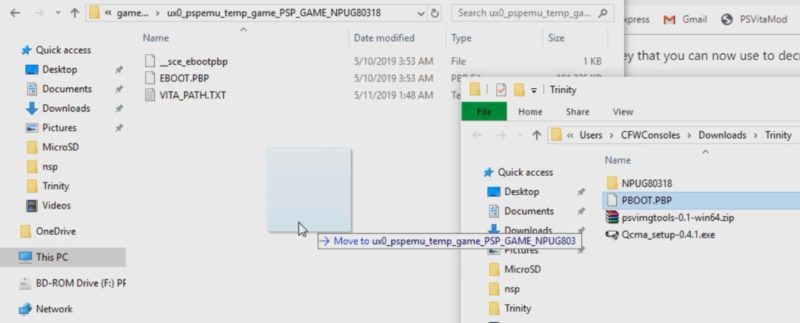 Move the PBOOT.PBP file into Documents/PS Vita/PGAME/AccountID/GameID/game_dec/ux0_pspemu_temp_game_PSP_GAME_GameID/PBOOT.PBP

AccountID is the number highlighted in Greenback in Step 4.
GameID is the number highlighted in Red back in Step 4.

You should see these files in the folder: EBOOT.PBP, __sce_ebootpbp and VITA_PATH.txt

Override PBOOT.PBP if it is already in the folder.

Copy the second command in Notepad (back in Step 5).
Go back into CMD and right click to Paste the psving-create command.
Press Enter and wait for the message "created game/game.psvmd"

Step 8: Delete Unnesscary Files in Trinity.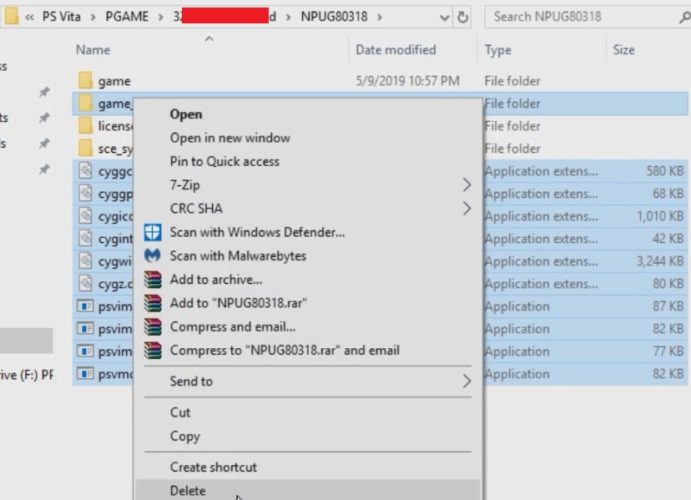 Go back out to Documents/PS Vita/PGAME/AccountID/GameID
Delete all the PSVIMGTOOLS files and the folder game_dec.
Optional - Copy and paste the folder somewhere because this is the Trinity hack modified to your PSN account.
Right click on the Qcma icon on the bottom right and go to Settings and Refresh Database.

Step 9: Copy Modified PSP Game back to Vita.

Back on the Vita, launch Content Manager.
Select PC to PS Vita System - Applications - PSP/Other
Click on the PSP game and press COPY.
Go back out to the Home screen and you should see the Trinity bubble.

Step 10: Restart and Launch Trinity.

Restart the PS Vita.
Turn on Wi-Fi if it wasn't on.
Launch Trinity.
Select Download VitaShell, then Install Henkaku, and then Exit.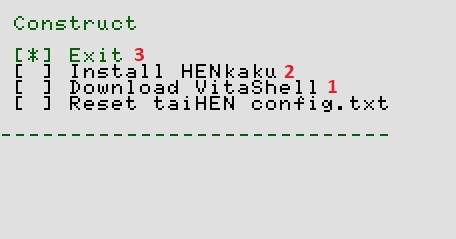 Step 11: Downgrade the PS Vita.
After hacking the Vita with Trinity it is highly recommended to downgrade the PS Vita because:
There are no guarantees that Trinity will continue to work.
Not every hack is guarantee to work on firmware 3.70.
You will have to launch Trinity every time you turn off or restart your Vita.
See my guide to use Modoru to downgrade here.