You will need the items below to install H-Encore. Your PS Vita must be on firmware 3.65, 3.67, or 3.68 and have a PSN account linked. If you never logged into your Vita before, just log into the PS Store ONCE. That's all it takes to link your account.
Huge thanks to TheFlow, the creator of H-Encore, this guide is following his own readme. If you want to contribute to him, do so on his GitHub.
Step 1: Unzip and Install all Files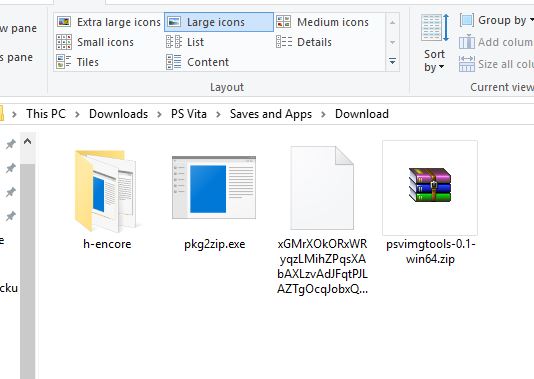 Unzip the H-encore and  pkg2zip files, install Qcma. Leave the psvingtools zip file unzipped for now. The Bitter Smile Demo is the white icon pictured above.
Step 2: Enable Hidden Folders.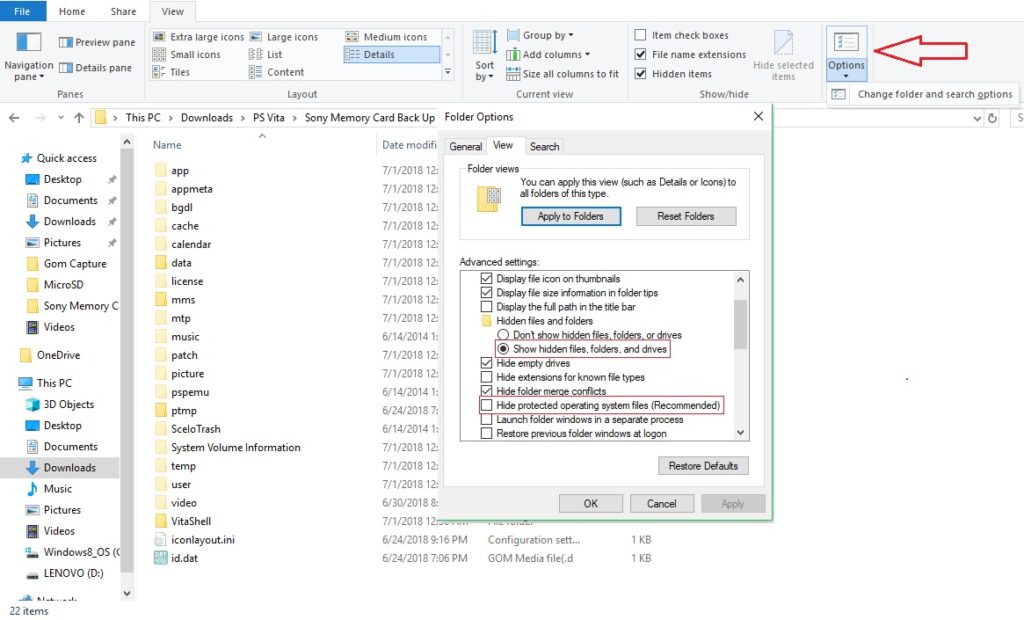 You need to enable View Hidden folders to see everything in the folders you downloaded. Go to View / Options /Change folder and search options / View / and select "Show hidden files, folders, and drives", and make sure to uncheck "Hide protected operating system files (Recommended).  Click Ok. For Mac Users, you can use CMD + SHIFT + . to enable hidden folders and again to turn off the view.
Step 3: Extract Bitter Smile Demo with Pkg2Zip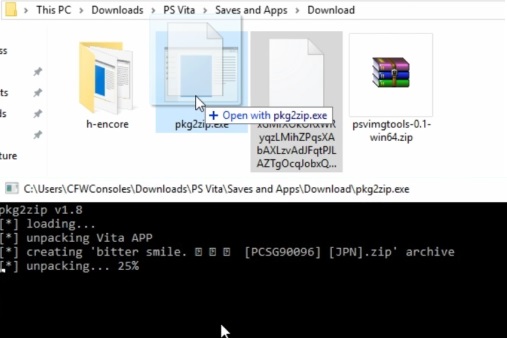 Drag the Bitter Smile Demo into the pkg2zip.exe icon and it will start extracting. Unzipped the newly created Bitter Smile Demo zip folder.
Step 4: Copy the App File into H-Encore.

Unzipping the Bitter Smile Demo zip file will give you an app folder with a PCSG90096 folder inside. Copy EVERYTHING inside PCSG90096 and paste it into the h-encore / app / ux0_temp_game_PCSG90096_app_PCSG90096 folder. Make sure the folder looks like the pic below.

Step 5: Copy the License File from Demo File to H-Encore.

Go back to the App/PCSG90096 folder and go to sce_sys/package/temp.bin. Copy the temp.bin file and paste it in the h-encore/license/ux0_temp_game_PCSG90096.... folder. Once pasted, rename and convert the temp.bin to 6488b73b912a753a492e2714e9b38bc7.rif. You will get a warning prompt, just click OK and make sure the folder looks like the pic below.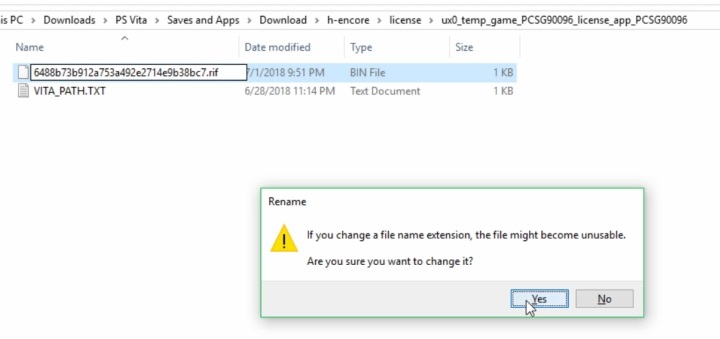 Step 6: Unzip the PSVimgtools into the H-Encore Folder.
Move the PSVingtools zip file into the H-Encore file, right click it and click "Extract Here." Your folder should look like the pic above.
Step 7: Start Qcma.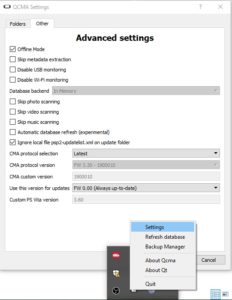 Run Qcma. It will appear in the system tray on the bottom right corner. Right click on the Qcma icon and go to settings. Click on Other and set the "Use this verison for updates" to FW 0.00 (Always up-to-date). Connect your Vita to the Content Manger and select Copy Content.
Step 8: Use Qcma to Generate the AID (Account ID).

On the Vita, select PC - PS Vita System and select Applications. This will create a folder at PS Vita/APP/xxxxxxxxxxxxxxxx, where the X represents your account ID (AID).  Qcma will tell you where this folder is on your PC, look under Applications / Backups. Copy your account ID and go to http://cma.henkaku.xyz/ to generate a key. Copy the key; it starts with 0e75 in the pic above. You will need this key in the next step.
Notes
If you see an error message about system software, reboot your Vita.
The AID and the key it generates is unique to each account, you can't use someone else's AID.
Step 9: Paste the Key into the 4 Commands for Terminal.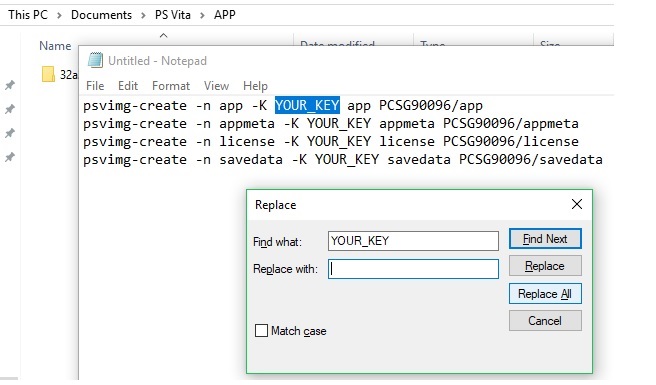 Leave your Vita connected and open up notepad and paste these 4 commands into it:
psvimg-create -n app -K YOUR_KEY app PCSG90096/app
psvimg-create -n appmeta -K YOUR_KEY appmeta PCSG90096/appmeta
psvimg-create -n license -K YOUR_KEY license PCSG90096/license
psvimg-create -n savedata -K YOUR_KEY savedata PCSG90096/savedata
Copy that 64 digit key and use Find and Replace (CTL H). For Find what, type in YOUR_KEY and make sure there are no spaces. For Replace with, paste in your key and once again make sure there are no spaces. Click Replace All, which should replace all YOUR_KEY text with your 64 digit number without adding or removing any spaces. You should double check that there is only one space before and after your key.
Step 10: Change Directory to the H-encore Folder in Terminal.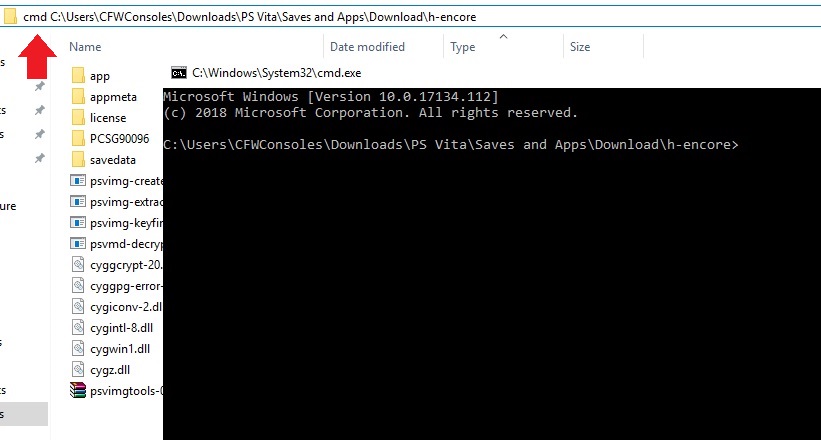 Double click on your H-Encore folder and then go up to the address bar (the bar that shows where your folder is located). Click on the address bar and press the HOME key on your keyboard or click at the very beginning. Type CMD with a space then hit enter and the terminal will pop up with the H-encore library location set up.
Step 11: Copy each Command 1 at a Time into the Terminal and Run it.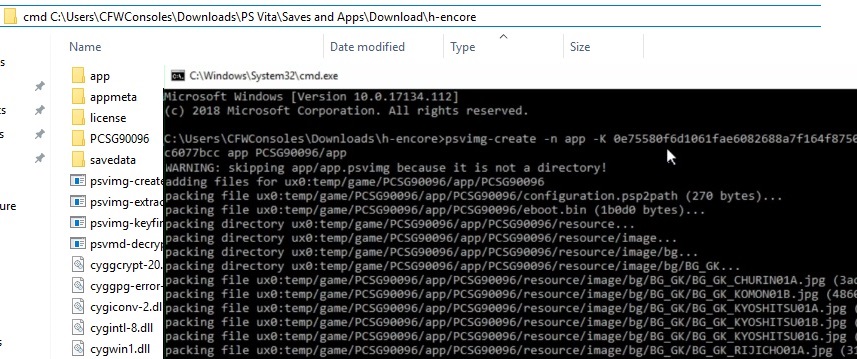 Copy each Command one at time into the terminal and press ENTER. Do this for all 4 command and once that is done you will see 4 new folders in the H-encore\PCSG90096 folder along with sce_sys.

Step 12: Copy H-Encore/PCSG90096 to PS VITA/APP.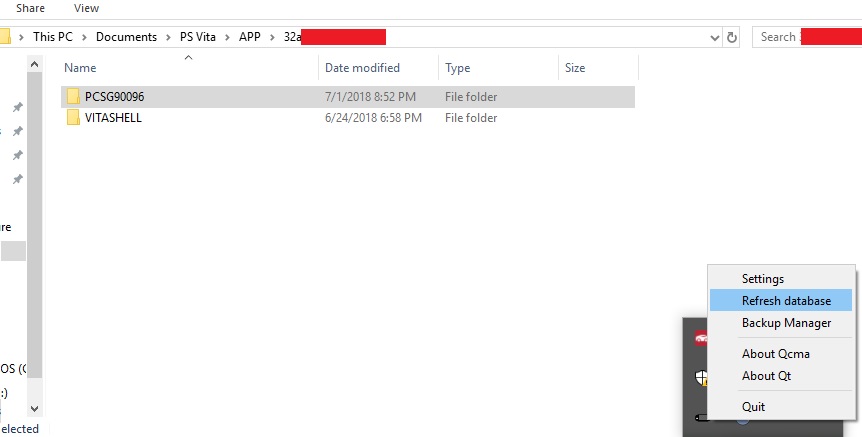 Copy the H-Encore/PCSG90096 folder and paste it into PS Vita/APP/xxxxxxxxxxxxxxxx (if you don't remember go to Qcma settings and look under Applications/Backups for this location on your PC). Go to your system tray on the bottom right corner, right click on Qcma and click Refresh the Database. I also recommend backing up this folder, because it contains the H-Encore hack customize for your PSN account. Now go back to your Vita.
Step 13: In the Content Manager Copy the H-Encore Icon.

In Contents Manager go to PC - PS Vita System /Applications/PS Vita and you should see H-Encore. Select H-Encore and press on the Copy Button. It took me about 5 minutes for it to be done copying.
Note:
You most likely won't have VitaShell like I do in the pic, this was from my other guide on how to restore Vitashell.
Step 14: Go Back Out to the Home Page and Click on the H-Encore Bubble!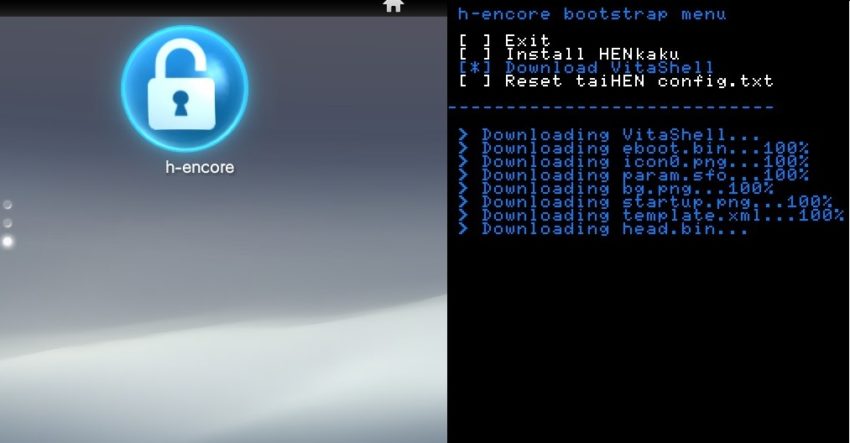 Go out to your HOME page and scroll down until you see the bouncing H-Encore bubble. Launch H-Encore, scroll down to Install HENkaku press X, then Download VitaShell and press X, Reset taiHen config.txt and press X, and then press X on Exit.
Step 15: Rejoice!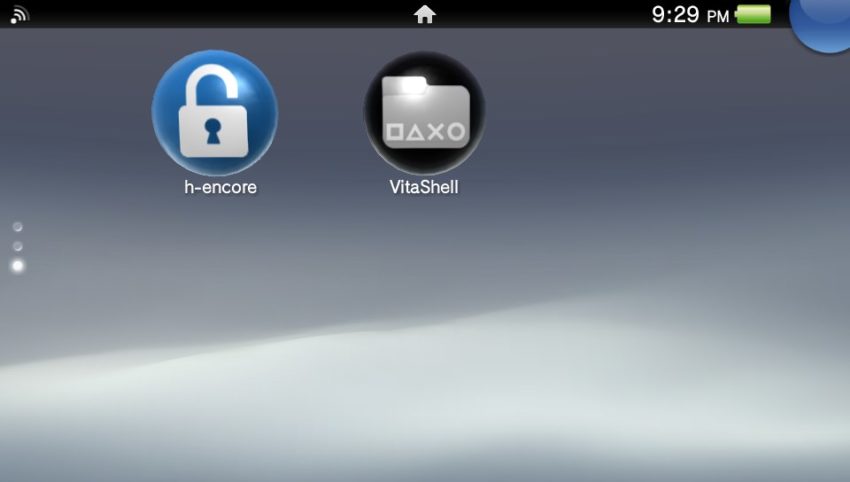 You should have VitaShell now and if you go to your Settings/System Information you should see two Chinese Characters next to your firmware number!
Enjoy your hacked Vita, to see a pic by pic guide on how to remove the trophy warning prompt see my next guide here.