Adrenaline mimics the official Sony PSP emulator on the Vita, it will boot up as if you are playing the PSP on 6.61 custom firmware. This tutorial will show you how to install Adrenaline through VitaShell, make Adrenaline download a hacked PSP firmware so you can use it to play your backups, fix a known bug on Adrenaline, and where to put your PSP and PS1 backups.

Files Needed
Adrenaline: GitHub Link
VitaShell: GitHub Link
PSP iso and or PS1 eboot.
Step 1: Enable View Hidden Folders.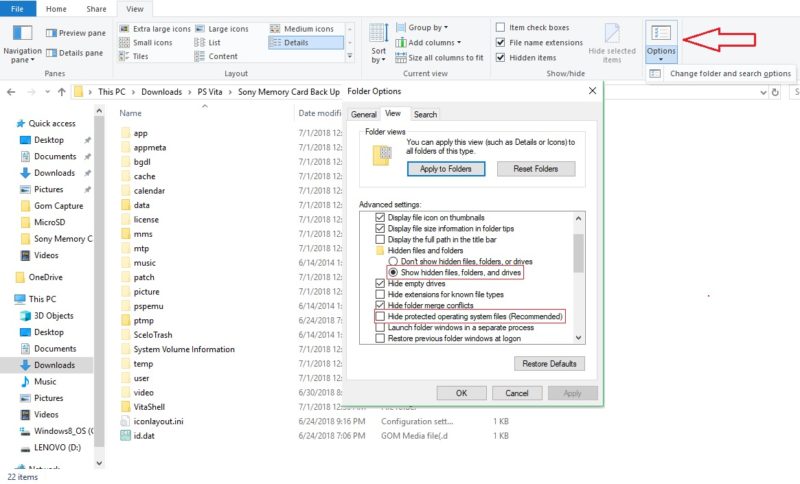 You need to enable View Hidden folders to see everything in your memory card.
Go to View / Options /Change folder
Search options / View / and select "Show hidden files, folders, and drives"
Make sure to uncheck "Hide protected operating system files (Recommended).
Click Ok.
For Mac Users, you can use CMD + SHIFT + . to enable hidden folders and again to turn off the view.
Step 2: Launch Vitashell and Connect via USB.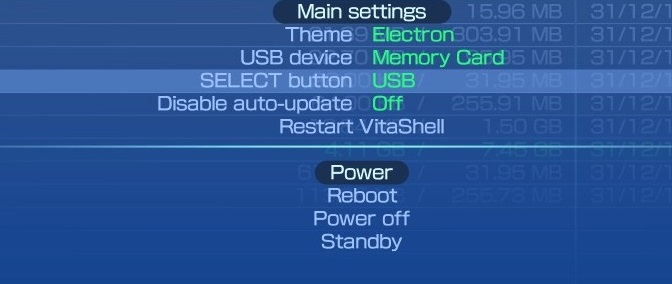 Launch Vitashell, press Start and change "SELECT button" to USB.
Press O to cancel main settings and then press SELECT to connect your Vita to your PC.
Note: If you are using SD2Vita, change the USB device to SD2Vita.
Step 3: Move the Adrenaline.vpk File to the Vita.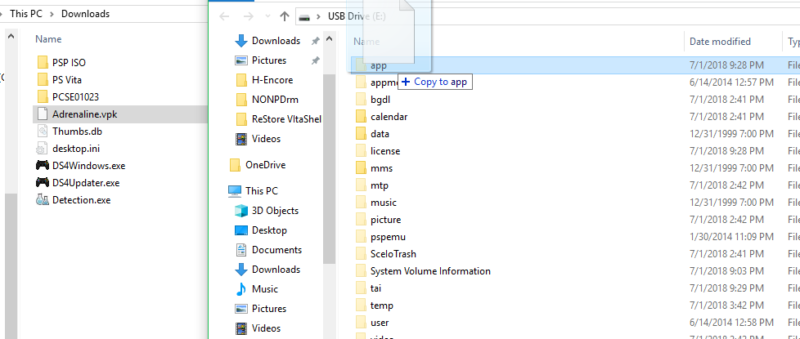 Go to the folder where you stored the Adrenaline file.
Move it to the App folder that just popped up when you connected through the USB.
Note: This step can also be done through FTP servers, see guide here.
Step 4: Use VitaShell to Install Adrenaline.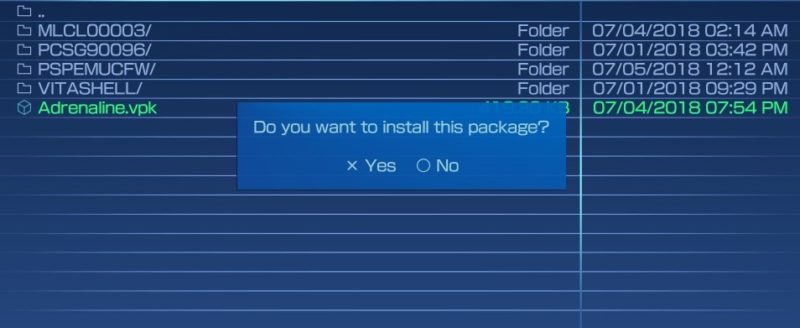 Press O to cancel the USB connection.
Go to ux0:app folder.
Press X on the Adrenaline.vpk file.
Press X to confirm the install.
Note: You can delete the Adrenaline.vpk file after the installation if you need space.
Step 5: Go Back to the Home Page and Launch Adrenaline.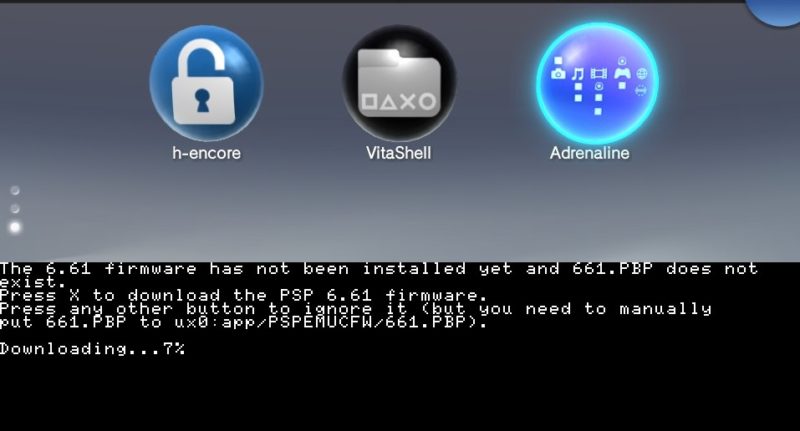 Go to the home page and turn on your WiFi, this will allow Adrenaline to download the PSP firmware.
Then click on the Adrenaline bubble and launch it.
You will get a message that says "Press X to download the PSP 6.61 firmware" so press X to download.
If you accidentally push any other button besides X, Adrenaline won't download and you will need to delete Adrenaline and install it again to get it to download.
Step 6: Launch Adrenaline Again.

Launch Adrenaline and this time it will say "Press X to install the PSP 6.61…."
Press X and let it install.
Once it is done "Press X to boot the PSP XMB."
You will then be launch into the PSP interface, set up your PSP and enjoy!
Step 7: Fix Adrenaline Double Launch Bug.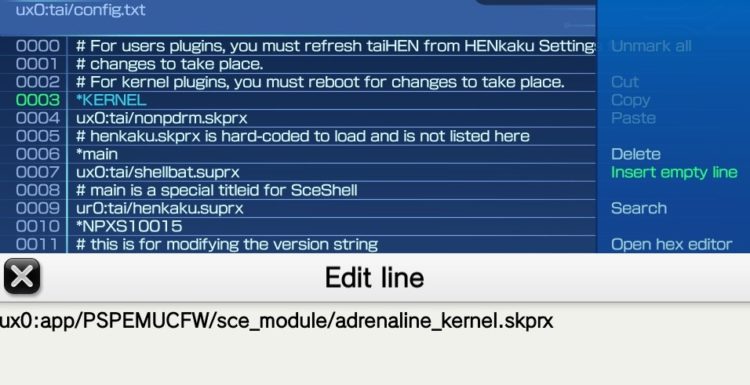 Adrenaline has a bug that requires users to press Adrenaline twice to get it to launch.
Go to your tai folder (if you are using Sd2Vita your tai folder should be in ur0:tai) and press X on config.txt.
Go down to *KERNEL and press "Insert empty line" and type in "ux0:app/PSPEMUCFW/sce_module/adrenaline_kernel.skprx" without the quotes.
Press O to get out of the text field and press O again to get a prompt to save your modifications.
Press X to save.
Bonus: Where to put Your PSP Backups.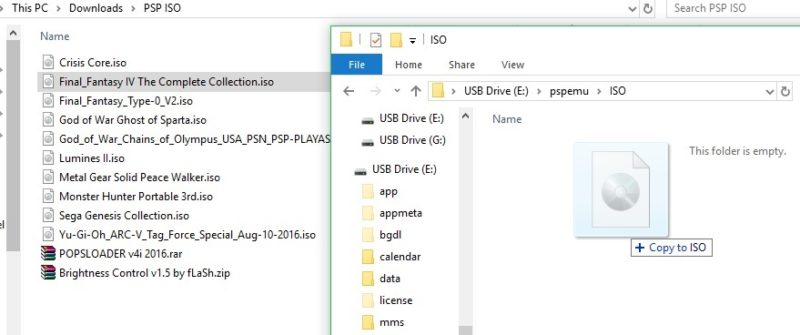 Exit out of Adrenaline (Hold the PlayStation button then click on settings next to Adrenaline, Exit PspEmu Application).
Go to VitaShell and connect through USB again.
For the folder that just popped up, go to pspemu folder and create an ISO folder in there.
Transfer your PSP ISO here.
Go back into Adrenaline.
Go to Game/Memory Stick to play your PSP backups.Note: If you ever had a PSP, you know you can also put other emulators. However, the PSP and PSX are going to offer the best emulation.
Bonus2: Where to put Your PS1 Files.

Go to VitaShell and connect through USB again.
For the folder that just popped up, go to pspemu/psp/game (if these folders are not available, create them).
In order for Adrenaline to recognize your PS1 Eboot (format of the rom) you need to put the Eboot inside a folder.
In this guide, I have an Eboot and I put it inside a folder called GT3E52 (This is the game ID but it can be called anything).
Go back into Adrenaline and go to Game/Memory Stick.