This guide shows you how to install PKGj, update the PKGj database, and download PKGj files. Since PKGj uses the PS Vita's WiFi, the download speed will be slow. Please refer to the "Already Installed" section for the prerequisites needed before you can use PKGj. For faster downloads, use NoPayStation. My guide for NoPayStation can be found here.

Already Installed
Osyscall6 needed to run games on higher firmware:
See guide to install
NoNpDrm needed to run games,updates, and DLCs:
See guide to install
Adrenaline needed to run PSP and PSX games:
See guide to install
            Need More Storage?
Upgrade your Micro SD Card to store more files. I got my legitimate Micro SD Card here.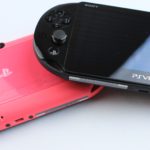 Looking for an Unique Vita?
If you are interested in a different color vita (like my pink one), I got mine online from eBay at ebay.com/search.
Step 1: Download PKGj.vpk File.

On your computer, download the pkgj.vpk file.
Step 2: Launch Vitashell and Connect via USB.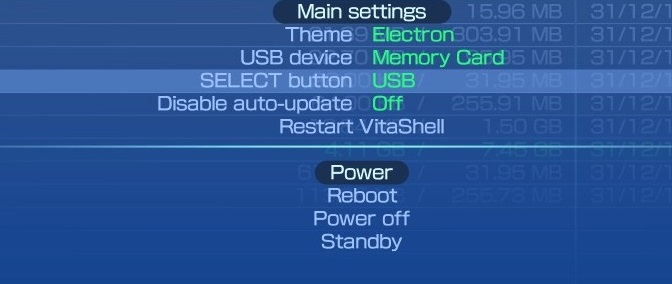 Back on your Vita, launch Vitashell, press Start and change "SELECT button" to USB.
Press O to cancel main settings and then press select to connect your Vita to your PC.
Note: If you are using SD2Vita, change the USB device to SD2Vita.
Step 3: Move PKGj to the Vita.

Transfer the pkgi to any folder in the USB drive that just popped up when you connected through the USB.
I created a folder called VPK.
Note: This step can also be done through FTP servers, guide here.
Step 4: Use VitaShell to Install PKGj.

Press O to cancel the USB connection and go to the folder you put it in (ux0:VPK in my example).
Press X on the pkgJ.vpk file and X to confirm the install.
Note: You can delete the PKGj.vpk file after the installation if you need space.
Step 5: Launch PKGj.
 
Go to the home page and turn on your WiFi.
Then click on the PKGj bubble and launch it.
Step 6: Refresh PKGj database.

Launch PKGj press Triangle and go down to Refresh and press X to show the list.
If you want to look for more downloads, press triangle and scroll down to the option you want and press X.
If no items appear, press triangle to bring up the menu and click X on Refresh.
Press X on the title of your choice.
Step 7: Launch the Icon.

Because you already installed osyscall6 (guide here), no compatibility packs are needed.
Once the download is done, go back out to the home screen on your Vita.
Scroll all the way down and you should see a bouncing bubble of your file.
Bonus: Install Update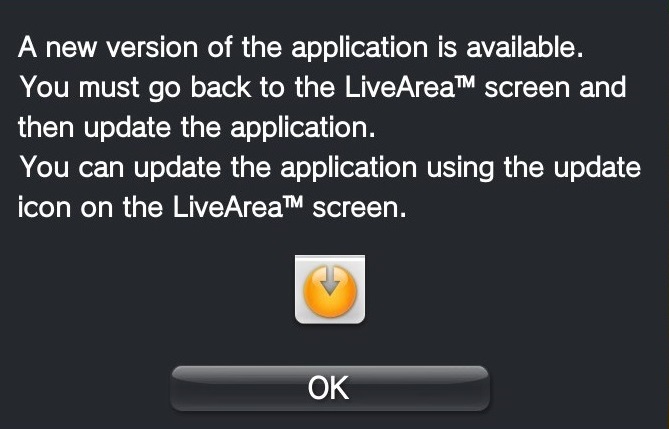 To update, click on the newly installed file and click on the yellow button. If there are no updates, then this icon will not appear.
Note: Since the update does show up on your notification, for paranoid users in fear of PSN ban (so far no reported case of a PSN ban from a hacked Vita and very unlikely) create a new PSN.
Bonus 2: Install DLC.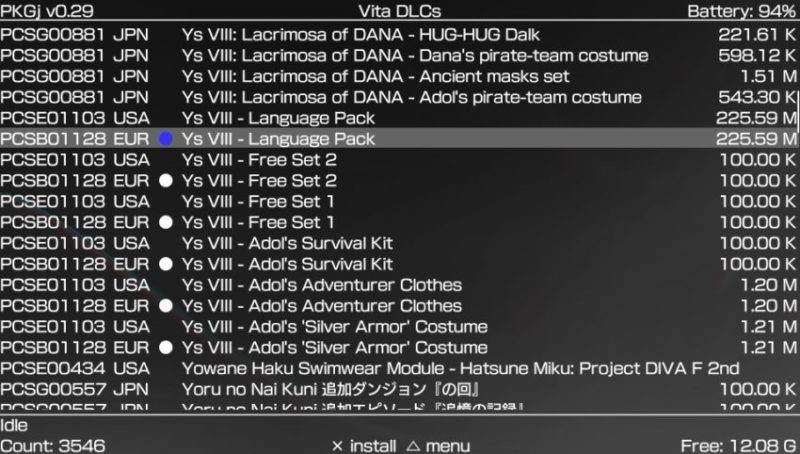 To Install DLCs, press triangle to bring up menu and scroll down to Show DLCs
Press X (if no item shows, press triangle and then Refresh). Find the compatible DLC, a blue dot will show which DLCs are available for your collection.
Press X on the compatible DLC and wait for the install, the blue dot will turn white letting you know that it was installed.
Note: If there are no blue dots, make sure you have the correct version (EX: US vs Europe).